Office, lab and test equipment available for sale
Most of the following equipment is used, but working and in good condition.
For more information please contact Stefan Kalbermatter


Surplus Semiconductors


69 pcs Lattice LFXP6C-3TN144C (LFXP6C3TN144C)
11 pcs Altera EP3C10E144C8 (EP3C10 E144C8)
12 pcs TI PCI1510 (PCI 1510)
143 pcs Atmel ATMega64L-8AU (ATMega64L8AU)
250 pcs Atmel ATMega8-16AU (ATMega8 16AU)
132 pcs Atmel ATMega8A-AU (ATMega8A AU)


Agilent HP8922M 1GHz Radio Communication Tester
(Agilent HP8922M GSM Mobile test Set)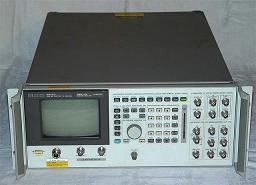 This test set emulates a GSM base station for testing of GSM mobile radios and other Radio Communication Equipment up to 1GHz. Flexible and easy to use; one button call set-up from power on. Makes fast, accurate and repeatable measurements. Tool kit of instruments including spectrum and audio analyzers. HP-IB. The 8922M contains a complete set of instrumentation for testing the RF sections of GSM radios. In addition to the frequency agile 0.3 GMSK RF generator, the RF analyzer has a frequency agile local oscillator, a coherent data demodulator, a pulse demodulator, a FM demodulator, a DSP based analyzer for phase and frequency error, a synthesized spectrum analyzer, and a pulsed power meter. Additionally, the 8922M contains general purpose tools useful for module test, troubleshooting, and debugging activities. Naturally, the RF generator, Spectrum Analyzer, CW Measurement functions and many other things can be used for work with normal analog signals.

User Manuals: User-, Programming- and Assembly-Level-Repair-Manual provided on CD

Installed Options:

001: High Stability Timebase
006: Spectrum Analyzer


Specifications: PDF

Condition: Used, but fully working!

Calibration due time has passed according to labels

Weight: 26kg

(1 pce. available)


For more information please contact Stefan Kalbermatter


All prices excluding 8% VAT (Switzerland)
Shipping costs on request.


All trademarks mentioned on this page are acknowledged and remain the property of their respective owners.